Overview
Dún Laoghaire-Rathdown County Council's Traffic Section have developed 
a road safety improvement scheme for Cross Avenue, Booterstown, Co. 
Dublin. 
Rationale
The scheme seeks to address road safety concerns for vulnerable road users in the vicinity of four schools, businesses, residences and the Cheshire Home Senior Citizen facility.
Objectives
1. To create an awareness of the presence of schools at this location by installing additional strategically located flashing amber school ahead warning signs, lining, signing and road markings.
2.
To reduce vehicular speeds using self enforcing measures such as reduced road widths and a chicane using existing parking layout but with hard features at ends of parking bays.
3.
To create a school zone environment where cyclists, pedestrians and vehicles can share the space in a low speed environment.
4.
To introduce a raised uncontrolled pedestrian crossing on Cross Avenue outside Booterstown N.S. to facilitate safe pedestrian movement at a designated crossing point.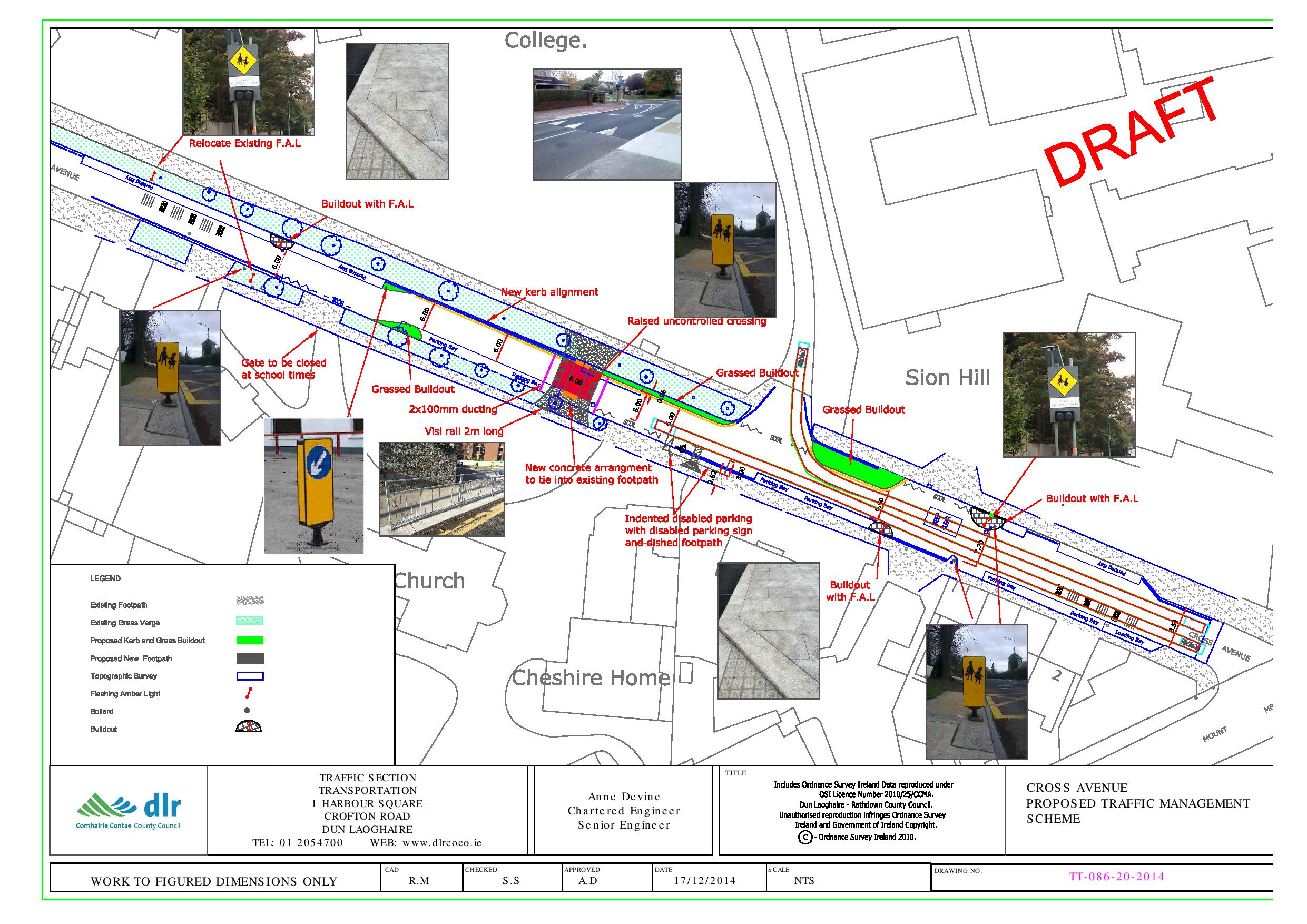 Phasing
The proposed scheme should preferably be carried out when the local schools are closed for holidays, and should be completed within one month of construction commencement.
General Notes
Plans and particulars of the proposed Scheme can be downloaded below and are also available for inspection in the Blackrock Public Library and in County Hall, Marine Road, Dún Laoghaire.
Submissions or observations with respect to the proposed Scheme may 
be made as follows:
(i) online by clicking on the link below
(ii) in writing to the following address:  
Senior Engineer, 
Transportation & Water Services Department, 
Traffic and Road Safety Section, 
Dún Laoghaire Rathdown County Council, 
County Hall, 
Marine Road, 
Dún Laoghaire, 
County Dublin.
(iii) by e-mail to traffic@dlrcoco.ie
The closing date for the receipt of submissions is Wednesday 18th February 2015.