Overview
Dún Laoghaire-Rathdown County Council is currently preparing plans to create a new Universally accessible entrance into Killiney Hill Park.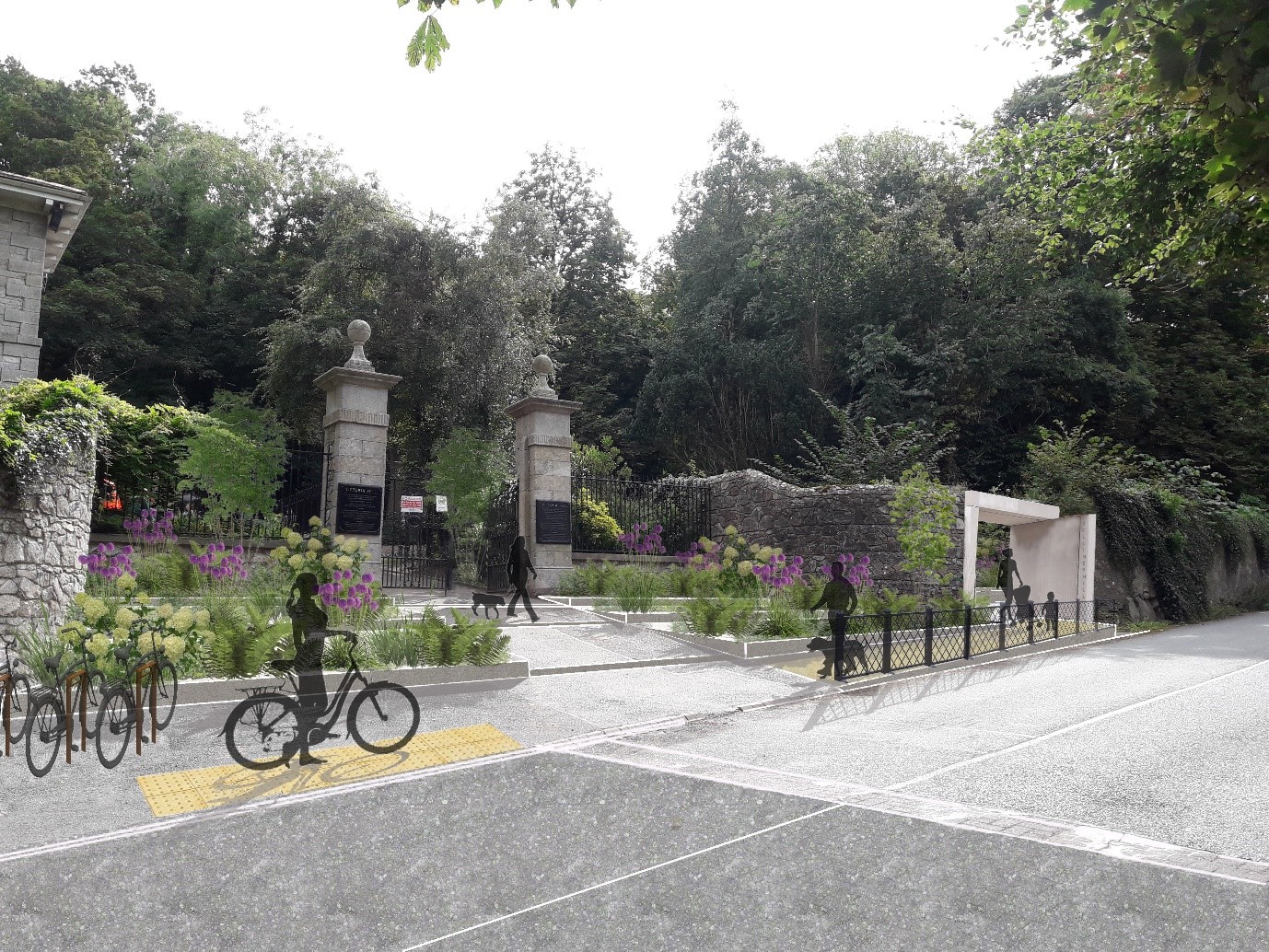 The existing Victorian gated entrance is a beautiful example of a public park entrance of its time. The wrought iron gates and railings and cut stone piers project a sense of arrival. Unfortunately, the apron to the entrance fails to respond in an appropriate manner, mainly due to the materials and general arrangement of the space. Unauthorised and ad-hoc vehicular parking detract from the original entrance, resulting in a disorganised and cluttered appearance. A conflict between pedestrians, cyclists and vehicles has developed due to the unstructured arrangement. The overarching aim is to celebrate and showcase the Victorian entrance and create a new contemporary entrance that is accessible for all and is age-friendly in design.
Although the topography of the park does not allow universal access throughout, the proposed project will enable universal access to the tearooms and the seating area & toilet facilities associated with it. It will also enhance the overall appearance of the existing entrance, improve on circulation and define a legible and structured arrival space. The general upgrade works will include new paving and kerbs, seating, public lighting, soft landscaping, cycle parking, fabrication & installation of new entrance gateway, construction of steps and accessible pathway and minor earthworks. The rationale behind creating a contemporary entrance is to make an honest, modern intervention that reflects the 21st century and contributes to the evolving narrative of the park.
The proposal also includes for level access from Killiney Hill Road footpath, located on the opposite side of the park, across to the entrance.  This creates a safer and more welcoming approach for pedestrians. Terraced planters will generate a structured arrangement, ensuring an unobstructed arrival space to the park entrance. Suitable planting will provide colour and interest, appropriately framing the Victorian gateway entrance. The terrace planters also aim to address the ad-hoc parking, creating a safer environment for both pedestrians and cyclists. The existing brick kerb edging and concrete flag paving will be replaced with a defined road kerb. New line markings will delineate additional parking bays along the park boundary wall, this will include a designated disabled bay with drop kerb.