Overview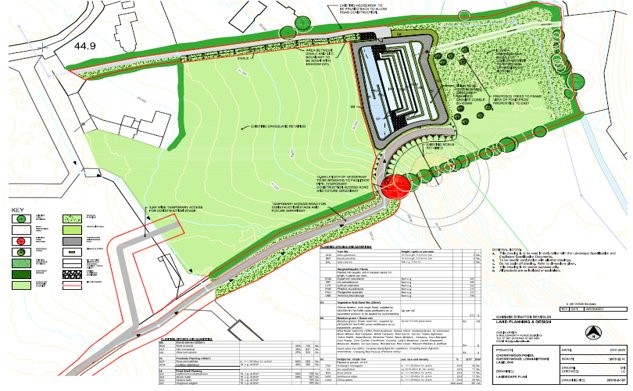 Location: ​
Within the proposed Linear Park in Lehaunstown - Development Area 1 to ensure proper and sustainable surface water management to serve the Cherrywood SDZ area.
What does it do?​​
Pond 2a forms part of the strategic surface water strategy for Cherrywood and is designed to provide attenuation volume for the 1 in 100 year storm event and treatment for enhanced water quality.​
​Why is it needed?​
These strategic ponds will provide storage to meet attenuation requirements and thereby reduce the potential for flooding during extreme rainfall events. In addition, the ponds will provide the final stage of treatment for surface water runoff prior to discharge to the watercourses.​
​How important is it?​
It is very important! It is essential that the Pond is delivered as early as possible to facilitate the delivery of much needed housing in Cherrywood, including development of dlr's own residential housing plot in Lehaunstown. ​
Circa 2,800 residential dwellings, including local authority social housing, circa 14,850m2 of commercial development floorspace in the Lehaunstown and Tully Village centres and the educational facilities in the catchment will rely on Pond 2A for surface water management. ​
Please Note: 
Plans and particulars of the proposed development will be available for inspection or purchase at a fee not exceeding the reasonable cost of making a copy, for a specified period of 4 weeks from Friday 30th April 2021 up to and including Monday 31st May 2021:
at the Planning Department, County Hall, Marine Road, Dún Laoghaire, by appointment during office hours between 10.00 a.m. to 4.00 p.m. Monday to Friday, excluding Bank Holidays, and

at the Council Offices, Dundrum Office Park, Dundrum, by appointment during office hours between 9.30 a.m. to 12.30 p.m. and 1.30 p.m. to 4.30 p.m. Monday to Friday, excluding Bank Holidays and

under dlr consultations on the Council's website homepage

https://www.dlrcoco.ie 

and

https://dlrcoco.citizenspace.com

.
Submissions or observations with respect to the proposed development, dealing with the proper planning and sustainable development of the area in which the development would be situated, may be made in writing to the Local Authority before 4:30pm on Tuesday 15th June 2021 as follows:
Online at

https://dlrcoco.citizenspace.com

 

By email to

FPIadmin@dlrcoco.ie

In writing to Administrative Officer, Forward Planning Infrastructure Department, Dún Laoghaire-Rathdown County Council, County Hall, Marine Road, Dún Laoghaire, Co. Dublin.
Why your views matter
In accordance with Part 8, Article 81 of the Planning and Development Regulations, 2001-2018 (as amended)
What happens next
Further to this Public Consultation, all submission will be considered and a report will be prepared and brought before Council Members.