Overview
Dún Laoghaire- Rathdown County Council (DLRCC) have identified a number of suitable locations for the development of all-weather pitches within schools in the county. DLRCC is partnering with the Edmund Rice Schools Trust, Oatlands College and Oatlands Primary School to develop an all-weather pitch at Oatlands College, Stillorgan, Co. Dublin. Currently there is a grass playing pitch at the proposed location used by Oatlands College and Oatlands Primary School, as well as local sports clubs for matches and training. There is currently a great demand by sports clubs locally for all-weather facilities across multiple sports.
The construction of a floodlit, all-weather pitch in this location would allow the pitch to be used much more intensively by the school and sports clubs outside of school hours, and in particular during the winter months. The proposed facility will provide a 135m x 86m floodlit pitch accommodating a championship-sized GAA pitch (130 x 80m), a soccer pitch (100 x 60m) and cross-field play (see computer generated image in figure 1 below).
Pre-Part VIII planning consultation has taken place with local stakeholders, including adjoining residents, school staff, pupils and sports clubs. Various aspects raised during this initial consultation have been considered as part of the design process, including traffic management, lighting and impacts on flora and fauna.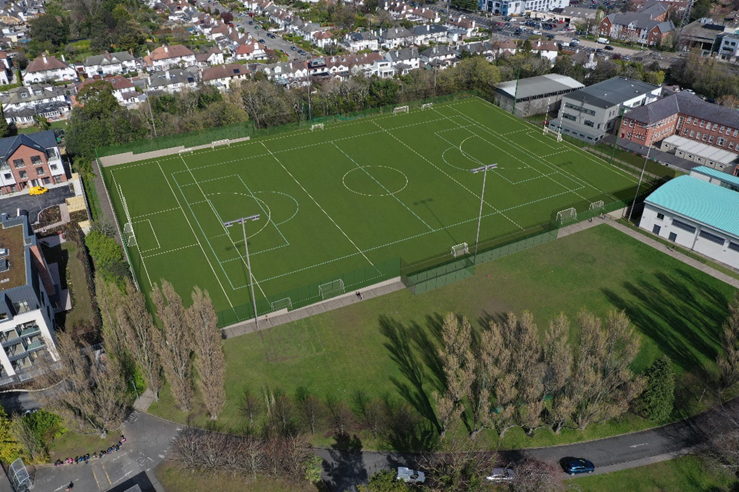 Dún Laoghaire- Rathdown County Council are currently accepting public submissions and observations on plans for development of an all-weather pitch at Oatlands College (Part VIII).The statutory public consultation period for the Oatland College All-Weather pitch (Part VIII) will run from Friday 21st April 2023 to 2nd June 2023 inclusive. During this time, any individual or organisation can submit their observations using the following means:
By completing

this online survey

which enables you to make an official submission on the proposed plans.
If you would prefer to share your views in a different format, official submissions can also be made by
Emailing parksconsultations@dlrcoco.ie with submissions in your preferred format or,

As a written submission by post or in person, clearly marked 'Proposed Development at Oatlands College' to Parks and Landscape Services, Department of Community and Cultural Development, Dún Laoghaire-Rathdown County Council, County Hall, Marine Road, Dún Laoghaire, Co. Dublin. Post Code A96 K6C9.
As part of the consultation process, we will be hosting two Public Information Events on the following dates:
Drop-in Information evening 

5 - 8pm Thursday 4th May (Oatlands College)
Data Notice:
Please note that only submissions through the above official channels will be considered and submissions to dlr County Council will be shared with M-CO.
This survey is being carried out to find out your views on a Proposed All-Weather Pitch Oatlands College. The information gathered will only be used for this purpose and will not be used for any other purposes. You can access the Council's Data Privacy Statement here.
About M-CO
M-CO is a multidisciplinary strategic design and project management consultancy.