Overview
Dún Laoghaire Rathdown County Council are currently accepting public submissions and observations on plans for development of Shanganagh Park Phase 1 (Part VIII). These latest plans were published on 6th April 2023, with revisions made based on community feedback received during consultation activity earlier this year, replacing any previously presented plans.
In an effort to balance active and passive recreation in the park we are proposing:
To develop one multi- use grass pitch in the proposed new active 

recreation zone, with

 floodlighting on the new pitch to increase playable hours

Preserving a larger portion of the central meadow space for more passive 

recreation and biodiversity protection, with additional tree planting

Continuing with the proposal for a combined cricket/baseball area, a new athletics 

sprint track (with floodlights) and a basketball/calisthenics area

Maintaining plans to improve accessibility to the east of the park with 

upgrades to bridge crossing, additional seating, natural play space etc.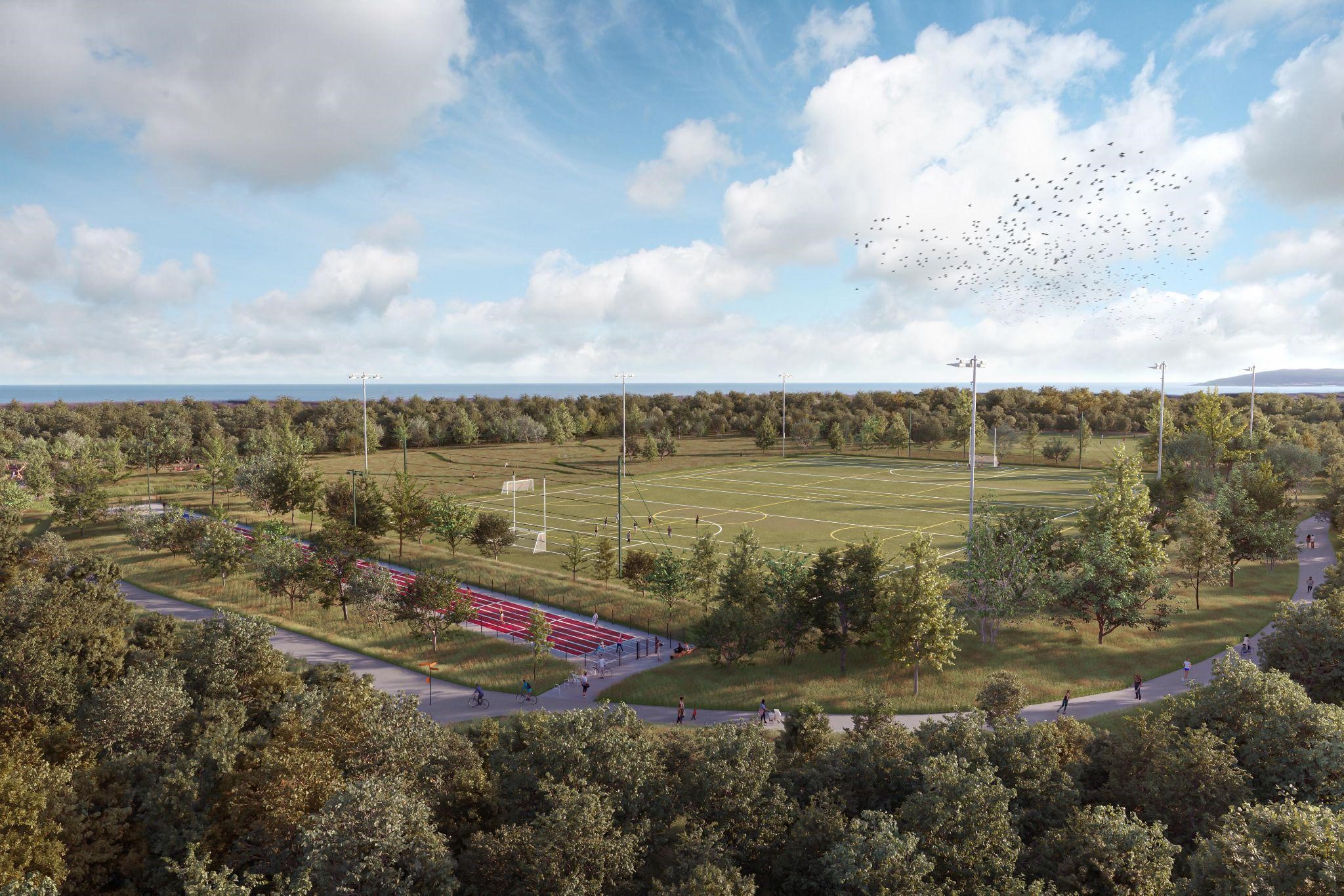 The public consultation period for these plans will run from 6th April 2023 to 22nd May 2023 inclusive. During this time, any individual or organisation can submit their observations using the following channels.
1. By completing the survey below, which has been designed to help you structure your feedback in a clear and simple manner and to make it easy for you to make an official submission on the proposed plans for Shanganagh Park Phase 1 (Part VIII), as part of the statutory consultation period 
If you would prefer to share your views in a different format, official submissions can also be made by
2. Emailing parksconsultations@dlrcoco.ie with submissions in your preferred format or 
3. As a written submission by post or in person, clearly marked 'Proposed  Development at Shanganagh Park (Phase 1) PC/PKS/01/23' to Parks and Landscape Services, Department of Community and Cultural Development, Dún Laoghaire-Rathdown County Council, County Hall, Marine Road, Dún Laoghaire, Co. Dublin. Post Code A96 K6C9.
Data Notice:
Please note that only submissions through the above official channels will be considered and submissions to dlr County Council will be shared with Connect the Dots (community engagement consultants).
This survey is being carried out to find out your views on Shanganagh Park Phase 1. The information gathered will only be used for this purpose and will not be used for any other purposes. You can access the Council's Data Privacy Statement here.
About Connect the Dots
Connect the Dots is a stakeholder and community engagement firm based in Dublin and Philadelphia that bring together community and public sector partners to develop innovative and actionable solutions for our towns and cities. They work alongside local collaborators & partners to craft insight-driven engagement processes that foster participation, build consensus, and re-imagine the future of our communities.