Overview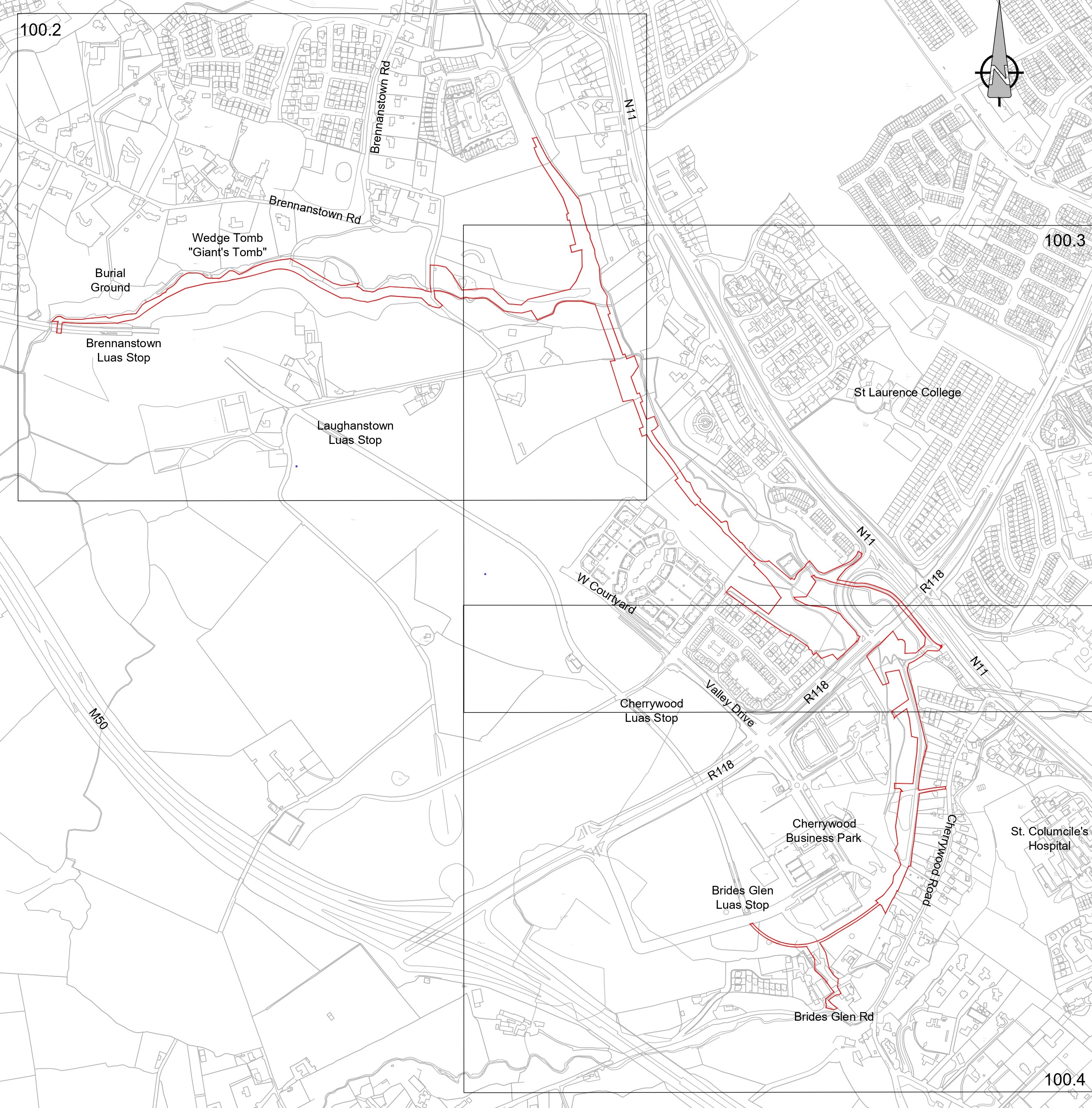 In accordance with Part 8, Article 81 of the Planning and Development Regulations, 2001-2021 (as amended), Dún Laoghaire-Rathdown County Council hereby gives notice of a proposal to construct as follows:  
Development Location: Cherrywood Strategic Development Zone, County Dublin. 
Proposed development: Cherrywood Natural Greenspace Green Route (common infrastructure project) extending approximately 5.0km from Brides Glen to Brennanstown comprising pedestrian and cycle connections to the N11, Wyattville Link Road, Cherrywood Avenue and Brides Glen/Cherrywood Road including: 
- A north-south greenway of approximate 3.1km long and 4.0m wide, from Cherrywood Business Park to Brennanstown, including connection to Druids Valley and Cherrywood Avenue. Parts of the route are existing and/or were previously permitted (Reg Ref: DZ18A/0854).  
- An east-west greenway of c.420m long and 3.0m wide, from north of the Carrickmines River to Lehaunstown Lane, via a new embankment. 
- A 800m long, 1.2m wide, pedestrian route through the Druids Glen woodland, consisting of resurfacing of existing pathways.  
- Pedestrian and cycle links to surrounding developments including a stepped link from Brides Glen Road; links within Cherrywood Business Park; upgrade of existing pedestrian links to Wyattville Link Road; widening and upgrade of existing pedestrian links from the N11; and pedestrian links to the north to recently permitted residential development Reg Ref: DZ18A/0208 / DZ19A/0863. 
- And all associated site development works. 
In accordance with S.I. 476, 2011, Section 250, Planning and Development (Amendment) (No.3) Regulations, 2011 and S.I. 296, 2018 European Union (Planning and Development) (Environmental Impact Assessment) Regulations 2018, Dún Laoghaire-Rathdown County Council has carried out screenings and has determined the following: 
Please Note: 
Plans and particulars of the proposed development will be available for inspection or purchase at a fee not exceeding the reasonable cost of making a copy, for a specified period of 4 weeks from Thursday 24th March 2022 up to and including Tuesday 26th April 2022, at  
The Planning Department, County Hall, Marine Road, Dún Laoghaire, between 10.00am to 4.00pm Monday to Friday, excluding Bank Holidays, and  

The Council Offices, Dundrum Office Park, Dundrum, between 9.30am to 12.30pm and 1.30pm to 4.30pm Monday to Friday, excluding Bank Holidays, and  

Via the dlr consultations on the Council's website homepage https://www.dlrcoco.ie and at https://dlrcoco.citizenspace.com  
Submissions or observations with respect to the proposed development, dealing with the proper planning and sustainable development of the area in which the development would be situated, may be made in writing to the Local Authority before 4:30pm on Wednesday 11th May 2022 as follows: 
Online at https://dlrcoco.citizenspace.com   

In writing to Administrative Officer, Forward Planning Infrastructure Department, Dún Laoghaire-Rathdown County Council, County Hall, Marine Road, Dún Laoghaire, Co. Dublin. 

By email to FPIadmin@dlrcoco.ie  
Submissions and Observations should be clearly marked "Proposed Green Routes Network, Cherrywood SDZ"